computers, customn

We build dual processor computers for you for half the price of retail, saving you 50% to 60%. SNP Computers build each computer by hand. We use all new components. We test and retest everything before it leaves our shop.
Larger quanties must be emailed to us with quantity, computer type, your email and phone number. To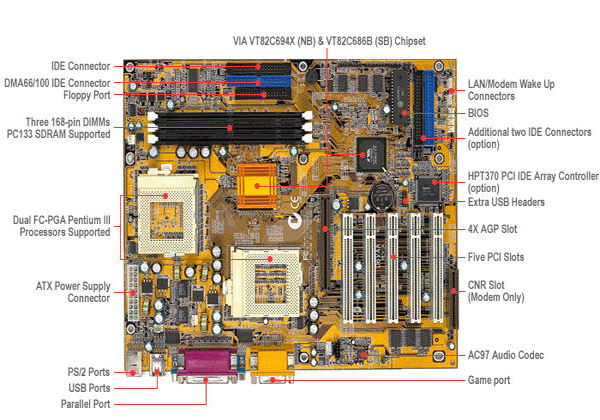 PROCESSORS Supported
Single Celeron™ PPGA/FC-PGA 266-766Mhz series processors
Single or DUAL FC-PGA Pentium®III 500-1130Mhz series processors
Single Cyrix MIII
Maxium 2.2GHz processing speed

CHIPSET
VIA® VT82C694X (NB) & VT82C696B (SB)
Support AGP 2.0 specification (4X)
MEMORY
Three 168-pin DIMM Sockets for 3.3V SDRAM (Ready for
PC100, PC133)
Maximum: 1.5GB SDRAM
SYSTEM BIOS
Award 2MB Flash EEPROM
Supports Plug and Play 1.0A, AMP 1.2, Multi Boot, DMI
Full Support for ACPI revision 1.0 specification
I/O INTERFACE
Supports Plug and Play function
PS/2 keyboard and PS/2 mouse connectors
Dual USB Ports
One - EPP/ECP mode parallel port
Two - 16550 high-speed serial I/O port
Audio Ports (Line-in, Line-out, Mic-in, CD-in and game port)
Dual PCI IDE interfaces - support four IDE devices (PIO mode 4,
DMA Mode 2, Ultra DMA 33/66/100)
Supports 360K~2.88M Byte, 3 Mode FDDs or LS120
ATX Power Supply Connector

Ports, Headers and Others:
SPDIF In/Out header for digital audio interface (Optional)
IrDA Cable header
Header for Modem DAA module
Green, HDD, power indicator LED headers
CPU and Case Fan headers
LAN Card Wake Up/Internal Modem Ring Wake-Up headers
RTC & BATTERY
VIA® VT82C596B included 256 bytes of CMOS SRAM
With CMOS SRAM hardware clear jumper
EXPANSION SLOTS
FORM FACTOR
Intel Pentium III 1 GHZ

The Pentium III processor integrates the P6 Dynamic Execution micro-architecture
Dual Independent Bus (DIB) Architecture
A multi-transaction system bus, and the Intel® MMX™ media enhancement technology.
Offers Internet Streaming Single Instruction Multiple Data (SIMD) Extensions, 70 new instructions enabling advanced imaging, 3D, streaming audio and video, and speech recognition for an enhanced Internet experience
Pentium III processors come equipped with an advanced transfer cache and advanced system buffering to meet the higher data bandwidth requirements of today's environments.
512MB PC133 RAM STICKS

512MB PC133 SDRAM DIMM
7.5ns, Gold Leads
Unbuffered 32x64 168pins 3.3v
LIFETIME MFG WARRANTY, 99.5% compat, 6 layer
True PC 133, Athlon/Intel approved
WINDOWS 2000 PROFESSIONAL INSTALLED



The reliable desktop and laptop operating system for businesses of all sizes Built on NT Technology, Windows 2000 Professional offers rock-solid reliability and improved manageability that simplify desktop management. And its integrated Web capabilities and broad support for mobile computers and hardware devices make it easy for business users to connect to the Internet and work anywhere, anytime.
Windows 2000 Professional is built upon the rock-solid reliability of Windows NT technology, which makes it significantly more reliable than either Windows 95 or Windows 98 technology. Reliability improvements in Windows 2000 Professional make it even more stable than Windows NT Workstation. Windows 2000 Professional offers high system uptime, dynamic system configuration and resilience to application failures.
The support for standards-based security in Windows 2000 Professional protects corporate data in stand-alone and networked environments. Windows 2000 Professional offers a set of built-in tools that make it easier to deploy and manage. In addition, Windows 2000 Professional offers an intelligent user interface that adapts to the way users work thereby making the users more efficient.
Windows 2000 Professional extends the capability of notebooks through support for Advanced Configuration and Power Interface (ACPI), Smart Battery and Advanced Virtual Private Network (VPN). It enables users to Work Anywhere, Anytime through support for offline folders and files. The improved hardware support in Windows 2000 Professional includes support for the latest hardware standards, including Universal Serial Bus (USB), Infrared Data Association (IrDA), and IEEE 1394.
Windows 2000 Professional is designed to make it easier for organizations to embrace the Internet. The built-in Internet Explorer (IE), a tightly integrated browser, provides users with a faster and richer Internet experience. With support for Dynamic HTML (DHTML) and Extensible Markup Language (XML), it offers a powerful platform for developers to create highly scalable end-to-end e-commerce and line-of-business web applications.
80GB Maxtor Hard Drive


Maxtor DiamondMax 80.9 Gb Ultra Dma 100 . ATA 100.
2MB Sdram Cache buffer for data transfer up to 100mb per sec and a sub-9.0 average seek time.
VooDoo5 5500 Video Card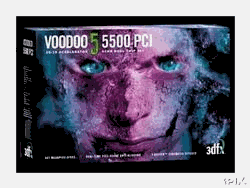 The Voodoo5™ 5500 PCI from 3dfx is the next stage in the evolution of ultra-high resolution gaming. Utilizing a revolutionary
scalable architecture, the Voodoo5 5500 PCI features dual 3dfx VSA-100 chips for more 3D horsepower. Working in parallel,
these processors produce over 667 Megatexels per second to create extraordinary 3D worlds in vivid 32-bit color. Boasting
state-of-the-art Real-Time Full-Scene HW Anti-Aliasing, the exclusive T-Buffer™ Digital Cinematic Effects engine, 64MB of
graphics memory for top performance and support for 2D resolutions as high as 2048x1536, the Voodoo5 5500 PCI gives
today's PC gamers the raw 3D power and premium 2D performance they crave.
General Features
Full-Scene HW Anti-Aliasing
T-Buffer Effects
FXT1™ and DXTC Texture Compression
128-bit 2D, 3D and video processor
64MB graphics memory
350MHz RAMDAC
667-733 Megatexels per second peak fill rate
8-bit Palletized Textures
32-bit Rendering
32-bit Textures
2k x 2k Textures
Creative Labs Sound Blaster Platium Live 5.1


Dolby Digital 5.1 and Analog Surround Sound Experience full 5.1 surround sound in either digital or analog output! Sound Blaster Live! Platinum 5.1 provides surround sound on your PC with built in support for two-, four-, or six- speaker configurations.
You'll get superior Dolby Digital 5.1 sound quality by connecting a Cambridge SoundWorks DeskTop Theater DTT3500 Digital speaker solution to the digital-out connector on Sound Blaster Live! Platinum 5.1. Or connect the Sound Blaster Live! Platinum 5.1 to analog devices such as the Cambridge SoundWorks DeskTop Theater™ DTT2200 speaker solution or any Dolby Digital-ready home stereo system to experience crystal-clear audio. Live!Drive IR with Wireless Remote The innovative Live!
Drive IR allows you to simultaneously connect both digital and analog devices such as MIDI instruments, MiniDisc, external digital audio devices, and headphones - all from the front of your PC instead of the back. The Sound Blaster Live! Platinum 5.1 also comes with an easy to use wireless remote control for simple navigation of audio playback and entertainment. This hardware and software solution allows you to convert your PC into an entertainment system ideal for a home theater environment. Quality Digital Signal Processor The revolutionary EMU10K1 Digital Signal Processor gives you all the power you need to create crystal-clear audio files. Because processing and playback remains entirely digital, your files maintain the highest level of audio quality with settings optimized for headphones, two, four, or 5.1 speakers and home stereo systems.
The Sound Blaster Live! Platinum 5.1 provides hardware acceleration for EAX™, Microsoft® DirectSound® 3D, and DirectSound® gaming and it produces up to 32 3D hardware-accelerated channels, up to 64 hardware-accelerated channels, or up to 1024 voices. With support for real time digital effects like reverb, chorus, echo, flanger, pitch shifting, vocal morpher, ring modulator, auto-wah or distortion, the power provides an overwhelming audio experience. EAX™ EAX is a collection of powerful, innovative audio technologies. Developed by Creative's world class audio scientists and built into groundbreaking Personal Digital Entertainment (PDE) Solutions, EAX is changing the way audio is experienced. EAX adds interactive, high-definition audio to the Sound Blaster Live! Platinum 5.1 with 3D audio technology and 5.1 analog and digital sound, to enjoy a premium audio experience in music, movies, and games. Customize your favorite MP3 songs with "Concert hall", "Jazz club" or other environment effects to add an extra dimension to your Internet Audio files. And in Creative Multi-Speaker Surround (CMSS) mode, you can upmix stereo sources into 5.1 output.
Complete Internet Entertainment Solution The Sound Blaster Live! Platinum 5.1 is the ultimate audio entertainment solution for Digital Music and Internet Entertainment. Creative PlayCenter 2™ provides a full 320 kbps encoder with up to 9x digital audio acceleration to allow you to create high quality, compact digital audio files. It allows you to rip and organize your entire music CD collection into either MP3 or WMA formats, transforming your PC into a massive digital music jukebox. Also included is Creative MediaRing Talk™ which allows you to make free PC-to-PC calls and PixMaker (Creative Edition), allows you can create 360 degree interactive webpages in 3 simple steps - Snap, Stitch and Publish!™ Live!Ware™ Sound Blaster Live!
Platinum 5.1 is fully supported by the Live!Ware upgrade program. This program is your direct vehicle to future product features and enhancements. Simply visit www.soundblaster.com, download the latest Live!Ware software upgrade and re-programmable EMU10K1 processor to continuously enhance your audio experiences.
DVD 8X CD ROM 40X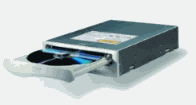 Disc Data Capacity CD-ROM: Mode 1: 656MB Mode 2: 748MB
DVD-ROM: Single Layer : 4.7 GB Dual Layer : 8.5 GB
Data Transfer Rate CD-ROM : Mode 1, 40X Speed, 2145 ~ 4800 KB/s
DVD-ROM: Single Layer, 8X Speed, 4455 ~ 10800 KB/s
Access Time Digital Audio Extraction: 4 - 10X Speed
Random Access Time: CD-ROM:90ms;DVD-ROM:100ms
Data Buffer Size: 512Kbytes Driver Reliability (MTBF) 125,000 POH (20% Duty Cycle at Room Temperature)
CDRW 12X10X32

5 1/4", half height, E-IDE interface, MMC2 compliant
Buffer under run proof
Small CPU bandwidth consumption
Vibration absorber system (VAS)design
Flash ROM supports on line programming capability
BURN-Proof technology protect from Buffer Under Run Error. This allows the user to do other work on their PC while recording data and prevents the creation of a useless disc.
PHONE/FAX/DATA MODEM 56k v.90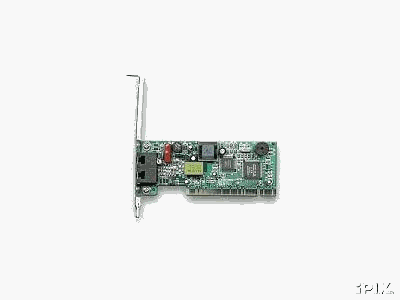 REAL V.90 DRIVERS!!! NO download/upgrade needed Complete 56K Modem.
Uses most recent Lucent DSP Chipset #1646T00.
Full 56K with K56flex Compatibility PCI Interface modem
Voice from handset DSP modem Comes with original Lucent drivers
Comes with BitWare or Trio application software on CD Lucent Chipset #1646T00 V.90 technology
Win 95/98 Plug-n-Play Free Bitware for Windows Included Windows 95/98/2000 and NT compatible
1.44 mb floppy

Compact 1 inch height size
Dual read channels
Low acoustic noise
MID ATX 300 WATT MIDI TOWER CASE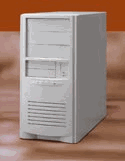 Sleek Modern Design ATX Power supply supports the latest features such as Stand By mode and Software Shut-down.
4 3 1/2 Bays (2 external)
4 5 1/2 Bays (2 external)
OPTICAL MOUSE CONFIGURED (mouse not included)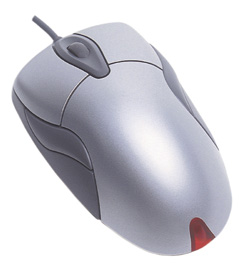 No need for a mouse pad
The Optical Mouse uses an infrared sensor to
detect the surface!
The infrared sensor lights up on the bottom tip of the
mouse to indicate it is detecting the surface.
With no ball or other parts to clean, there will be no
more skipping of your mouse causing you frustration.
The Optical Mouse offers smooth and precise
motion!
Other features include three programmable buttons for
navigation of the Internet, programmable scrolling
wheel button, a command button and a pop-up menu
button.
(Mouse not included)
ayment Terms
All contents ©1998-2001 DualProcessorComputer.com!